KDF55 Medium Media



Model No.
B-602-5
Description
KDF55 Medium Media
Specification

KDF 55 medium is a high-purity formulation of copper-zinc alloy that removes scale, bacteria and algae using a chemical process called redox, or oxidation-reduction.

Approved by NSF (STANDARD 42)
KDF55 = 55% copper + 45% zinc
Shape = fine grained (copper, zinc alloy)
Particle size = 0.149mm to 2.0 mm
Size (mesh) = -10 +100
Specific Gravity = 2.2~2.9 g/ml (171 lbs/cubic ft)
Inlet water temperature = 35 to 212 degrees (°F)

The function of KDF in water treatment are:
1. Removal of residual chlorine: It can remove chlorine and trihalomethanes and other by-products, hydrogen sulfide and other harmful gases in water
2. Removal of heavy metals: KDF55 filter media can remove up to 99% of inorganic water-soluble heavy metals. Harmful heavy metals such as iron, lead, copper, and mercury are filtered and precipitated on the surface of the filter media, thereby effectively removing them from water.
3. Inhibit bacteria
KDF filter material has antibacterial effect. The electrolyte environment created by the redox response is lethal to some microorganisms; the response also produces hydroxyl and hydrogen peroxide (H2O2), which reduce the activity of some other microorganisms.
4. Prevent scaling
KDF55 produces a special electrolyte environment that inhibits bacterial growth, it can reduce the formation of scale, such as in sprinklers, bathtubs, etc., and even change the calcium molecules in the water to prevent scaling.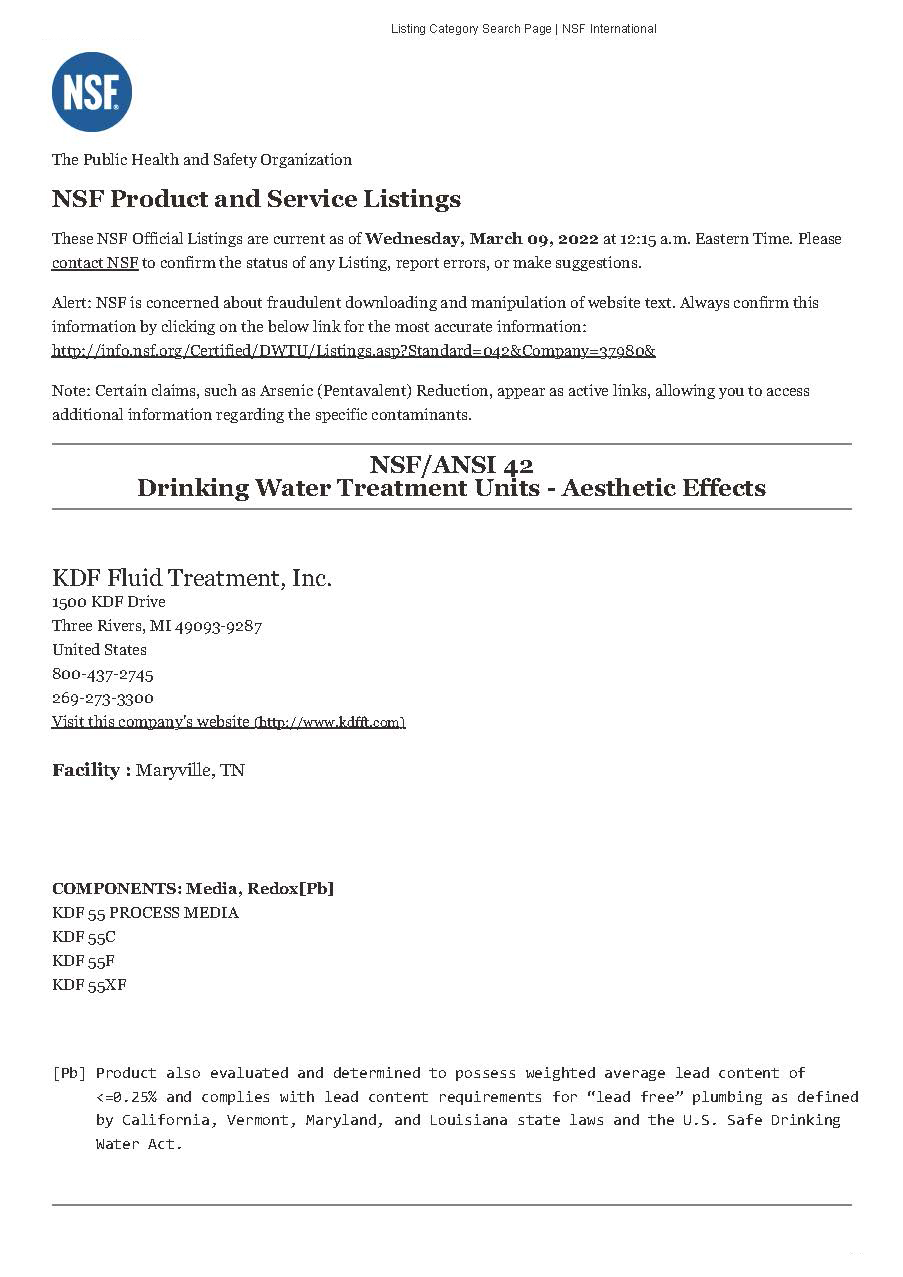 Approved by NSF (STANDARD 42)
KDF55 = 55% copper + 45% zinc
Shape = fine grained (copper, zinc alloy)
Particle size = 0.149mm to 2.0 mm
Size (mesh) = -10 +100
Specific Gravity = 2.2~2.9 g/ml (171 lbs/cubic ft)
Inlet water temperature = 35 to 212 degrees (°F)