About Us
| | | |
| --- | --- | --- |
| | The honor of the membership in Water Quality Association | |
The Best Manufacturer & Exporter - AQUA-WIN WATER CORPORATION
AQUA-WIN WATER CORPORATION was founded by a professional water purification system team in 1992. Our products have an excellent sales performance in Taiwan. At the same time, we are the first and the best manufacturer for reverse osmosis drinking water systems in Taiwan Market. We deeply believe that we operate this company with honest and honor attitude.
AQUA-WIN has insisted that we keep excellent quality of products, competitive prices, and innovative and outstanding purification products since we founded this company. Our unique design makes installation easier and operation more stable. In addition, we provide customers with a variety of colors and sizes of water purifier parts to choose. The ultimate goal of this company is to provide customers with the best quality but reasonable-price products.
AQUA-WIN gain high values from domestic and international customers after we have operated the company sincerely for a long time. Because we pay attention to provide customers with stable and high-quality products, we maintain a leading position in this field. Besides, we hope to provide our customers with a complete service from value-added services, production, sales and after-sales service. We can meet the needs from an individual customer to big companies by means of a wide range of services.
AQUA-WIN WATER CORPORATION hopes to invite all domestic and international customers to contact us and establish a good business relationship with us. If you hope to survive in today's highly competitive water market, you must have a professional and reliable supplier like us to provide you with high-quality products, competitive prices, and professional management.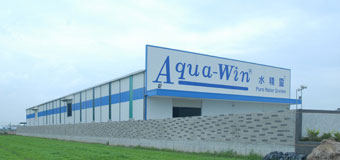 Business Range:

Designing and Manufacturing Drinking System, Reverse Osmosis System.

Mainly engaged in production, making, marketing and wholesale every kind of water dispenser & water purifier.

Industrial / Commercial / Residential / Several Filters.

Designing and Construction Pure Water System for Industry and Hospital.

Planning, Designing and Construction Water Factory.

Developing and Designing Water Chain Store.

Factory Location: Taiwan.

Business type: OEM manufacturer.

| | |
| --- | --- |
| | |



| | |
| --- | --- |
| | |


Company Name

Aqua-win

Water Corporation

Contact With
Li Jun Xian
Product
Commercial & Industrial R.O. system, Electrical Appliances, Home water treatment, Home-use RO System, Residential R.O. Reverse Osmosis system, Counter top R.O. system, Desktop water dispensers, Under-counter RO System, Drinking water machine, Water filter, Water dispenser, Ionized water, Water Filtration system, Pure Water, Alkaline Ionic Water Generator, Water purification systems, Standing RO system, Water purifier, Fountain, Drinking water dispenser, Drinking water systems, Ozonizer, UV sterilizer, RO parts and accessories, RO components, Water coolers, Water softener, Commercial and industrial reverse osmosis equipment, Water treatment equipment, Water purifier manufacturer, RO (reverse osmosis) system, Booster Pump & Diaphragm pumps, Needle valve, Filters, Cartridge, RO membrane, Ceramic, C.T.O., G.A.C., K.D.F., Ion resin, PP filters, CTO filters, pre-filters, T33 series filters, UDF series filters. Shower filters, Housings, kitchenware & Household products.
Office Address
No.668, Da-Feng Second Road, Sun-Min District, Kaohsiung, Taiwan 807
TEL
+886-7-389-3888
FAX
+886-7-381-6865
Web
www.aquawin.com.tw
E-mail
info@hibox.hinet.net