About Us




AQUA-WIN WATER CORPORATION has been established since year 1993. The team is build by professionals from different fields leading Aqua-Win to be one of the best manufacturers of Reverse Osmosis System in Taiwan.
"AQUA" brings the meaning of water in Latin, while "WIN" represents our determination heading to a successful company.
Exporting to more than 90 countries, quality and service is recognized by users from worldwide. Our mission is to bringing pure, clean and safe drinking water to people around the world.
Brings innovation to water purification system with unique design, build our own brand named "EVERGREEN". Products are produce with stable quality, easy installation and stylish design
Link R&D, production, marketing and after sales service. Provide OEM customization service that fulfills different requirements.



Warehouse and professional production line in factory with over 3,500 square feet storage capacities. The large area allows us to take a large number of orders at the same time.

Quality control from tiny spare parts to large water treatment system. We make water TDS test, pressure test, chlorine test, final product test, etc.

Products are labeled and come with package cushioning. Goods will be double checked before handle to shipping.

Aqua-Win has built a long term business relationship with all of the customers all around the world with 12 years exporting experience across the world for 90 countries.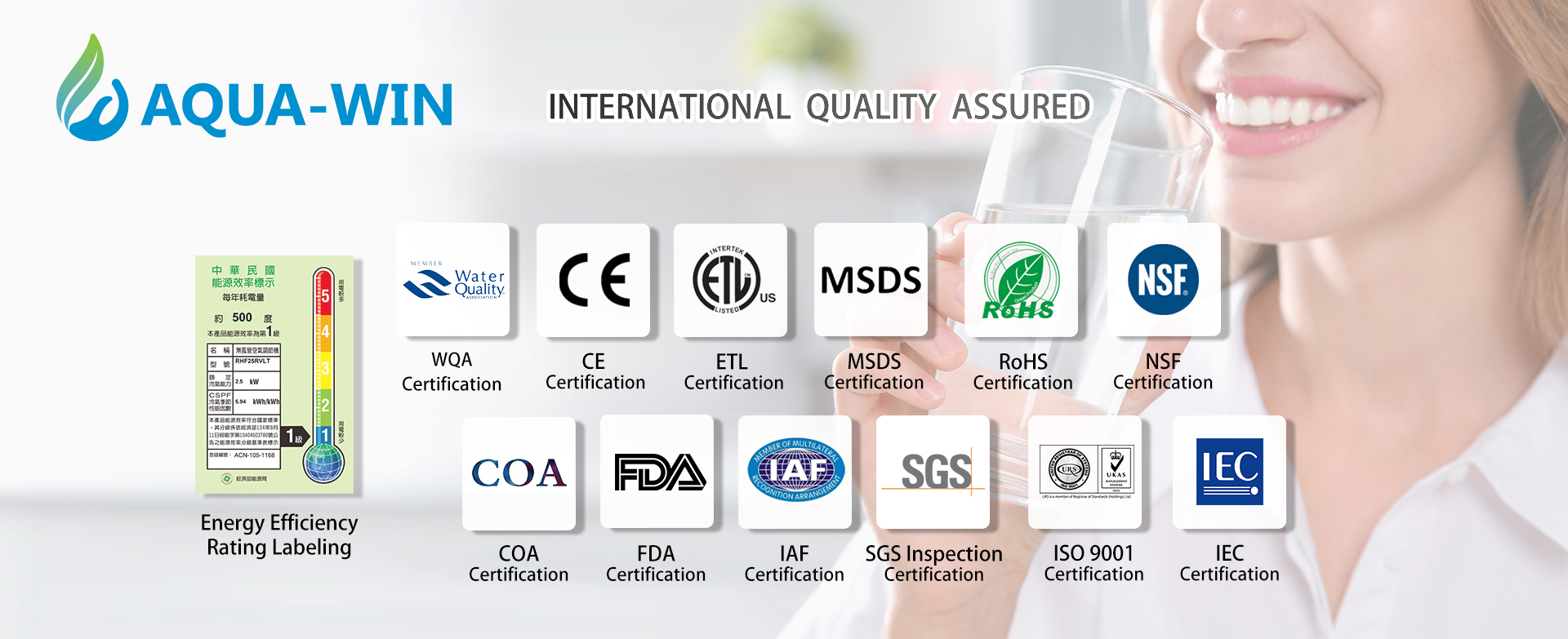 | | |
| --- | --- |
| Company Name | Aqua-Win Water Corporation |
| Product | Commercial & Industrial R.O. system, Electrical Appliances, Home water treatment, Home-use RO System, Residential R.O. Reverse Osmosis system, Counter top R.O. system, Desktop water dispensers, Under-counter RO System, Drinking water machine, Water filter , Water dispenser, Ionized water, Water Filtration system, Pure Water, Alkaline Ionic Water Generator, Water purification systems, Standing RO system, Water purifier, Fountain, Drinking water dispenser, Drinking water systems, Ozonizer, UV sterilizer, RO parts and accessories, RO components, Water coolers, Water softener, Commercial and industrial reverse osmosis equipment, Water treatment equipment, Water purifier manufacturer, RO (reverse osmosis) system , Booster Pump & Diaphragm pumps, Needle valve, Filters, Cartridge, RO membrane, Ceramic, C.T.O., G.A.C., K.D.F., Ion resin, PP filters, CTO filters, pre-filters, T33 series filters, UDF series filters. Shower filters, Housings, kitchenware & Household products. |
| Factory Address | No. 25, Lane 1022, Section 3, Guangming Rd., Daliao Dist., Kaohsiung City 831, Taiwan |
| Web | www.aquawin.com.tw |
| FACEBOOK | https://www.facebook.com/TAIWAN.AQUA.WIN.EN/ |