The Replacement of HY-377



Features:
Japanese titanium electrolyte slot.
7 Color Display: PH, flow volume and cleaning display.
Four section of alkaline water, one section of pure water and two section of acid water.
Adopt Japanese kobe steel, suit the environment for use, such as voltage, water quality in Taiwan.
Function:
World origination patent seven color of the spectrum outlet pipe display
Nitiate in the world seven color liquid crystal of patent and show the screen, can show the sour Alkaline true quality of every section, water letting you want the drinks, use, there are reference datas, still consult the color.
Do you know what is Alkaline Water?

Multi-functional liquid crystal display is designed full-automatically
All section of original creation show, the flow shows, strains core life-span showing, such functions as PH sour Alkaline value shows.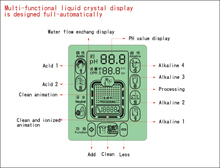 The industry's first large-scale 8-inch infrared touch screen
Electrolyte solt clean water function
10 seconds immediate and automatic cleaning of electrolyte slot after each operation
Intelligent automatic recording after each 50liter usage, red signal will display to inform compulsory cleaning.
Double protection electrolyte slot cleaning to enhance electrode life and restore electrical stability after each use Cleansing.
Active carbon filter
Latest science and technology high-quality drinking water design accord with and catch the standard of drinking.
Clean water treatment with high capacity and efficiency:But the very small polluter, such as chlorine, chemicals, agriculture chemical residual poison, etc. in the adsorbed water.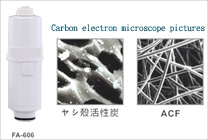 Standard model (Home model)
Model
HY-377
Voltage
AC110V 50/60HZ (220V optional)
Power consumption
MAX230W (standby 5W)
Water pressure
0.7 ~ 5.0 kg/cm

2

Display
PH, O.R.P, flow volume and cleaning display
Electrolyte slot material
weld type titanium electrolyte slot with ceramic foils
(3 foils and 4 slots)
Cleansing type of electrolyte slot
automatic ten seconds cleansing after each alkaline supply
Electrolyte power exchange
four section of alkaline water, one section of pure water and two section of acid water
Fine adjustment of PH
twenty adjustment
PH correction
adjustable according to water properties of different areas
Filter materials
Activated carbon filter
Filter life
change after each 3000L ~ 12000L according to water properties in different areas (3 ~ 12 months roughly)
Safety protection fittings
current protection and wrong drinking protection
Net size
Weight
H 310mm x W 220mm x D 125mm
4.0kg
PH Values
5 ~ 10 (estimated values)
O.R.P Values
-650mv (MAX) (estimated values)
Attention:
Please use tab water as water source (do not use underground water or mountain spring water).
Acid water is for facial cleaning, normal washing, bacteria prevention use. Do not drink them.
PH described here are for reference only which can change according to different water properties, water flow and voltage in different areas.
Service Life: About 12 months