5 Stage Standard Box RO System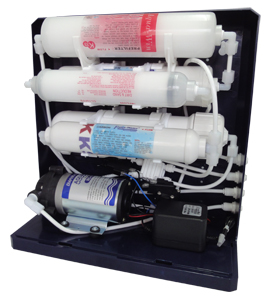 Model No.
A-107-12
Description
Casing Style 5-Stage RO System 50GPD (Without Pump) (With Plastic Casing)
Specification

The Traditional R.O. system which water pipe is exposed usually and it is easily breakdown and leak. To attract cockroaches and rats to bite water pipe. There is no guaranteed of safety and hygiene.
K33 Disposable Pre-filter x 1
K33 Disposable Carbon Filter x 1
Filter Cartridges Reference Resources:
http://www.piececake.com/hoyi/category/k33-disposable-filter.htm
PF-5 PP Sediment Filter x 1
CL-10 In Line coconut shell Carbon Filter x 1
Single Clip x 6
RO membrane housing x 1
HY RO Membrane 50g x 1
Booster Pump x 1
Pump Transformer x 1
1/4" Solenoid Valve x 1
Prevent backflow valve x 1
Flow Restrictor(400ml) x 1
Goose Faucets x 1
NSF Standard Storage tank(3.2g) x 1 (Plastic tank 2.2g or 4g is optional)
Faucet Adapter x 1
Drain Clamp x 1
Brass Ball Valve x 1

* The parts in the ( ) is the optional item, not included or used in the unit, but you could choose to use or replace the original item with the one in ( ).
MODEL # A-107-12
1st Stage --- Disposable Pre-filter
2nd Stage ---Disposable Carbon Filter
3rd Stage --- PF-5 PP Sediment Filter
4th Stage --- KINGPRO 50G Membrane
5th Stage --- Post in-line Carbon
3.2G NSF Metal Storage tank
Without pump
50/80/100GPD is optional