Easy To Change Water Filters RO System
All-In-One R.O. System
A compact system enables to efficiently produce high quality pure water with combination of reverse osmosis (R.O.) technology, quick-change filters and storage tank (2.0G). Features of easy installation, maintenance and small size in compact systems fit your purified water needs for Home-Use and small location.
Easy to Change Water Filter
Our exclusive twist and easy to change filter cartridge make replacement fast, easy and clean without tools required. The easy to change water filter cartridges can be easily changed in seconds with just a quarter turn.
Automatic shut-off design makes installation safer and easier during cartridge replacement. Users can directly twist out the used and twist in the replacement without shutting the water resource. Also, the unique cartridge head can automatically avoid leaking problem in use.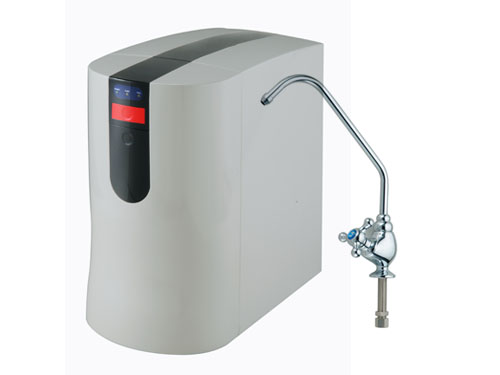 Model No.
A-225-13
Description
HY5099U 5-Stage Compact RO System (Under-Counter)
Specification

RO membrane housing x 1
King-Pro 50G RO Membrane x 1
Booster Pump x 1
Pump Transformer x 1
Solenoid Vaive(1/4") x 1
Prevent backflow valve / Check Valve x 1
Flow Restrictor(400ml) x 1
Ceramics Faucet (Silver) x 1
Steel Storage tank (2.0g) x 1 - Assembled inside the Case
High Pressure Switches x 1
Low Pressure Switches x 1
Faucet Adapter x 1
Drain Clamp x 1
Brass Ball Valve x 1
Bracket X 1
Single Clip X 2

* The parts in the ( ) is the optional item, not included or used in the unit, but you could choose to use or replace the original item with the one in ( ).

Features

Can be placed on Counter-Top or Under-Counter.
When placed on the countertop, it can act just like a water dispenser! (No HOT or COLD feature) Just push down the button, as the picture shown.
Elegantly designed for convenient portability! Everything you need is inside of this case! P.S: Also easy for cleaning!
NO MORE SPANNER WRENCH!! Easy filter replacements!!
Quick-Connect fitting for easy to change water filters installation
Space saving? Yes! The HY-5099 combines the RO system and its tank! Also, bugs can't get in!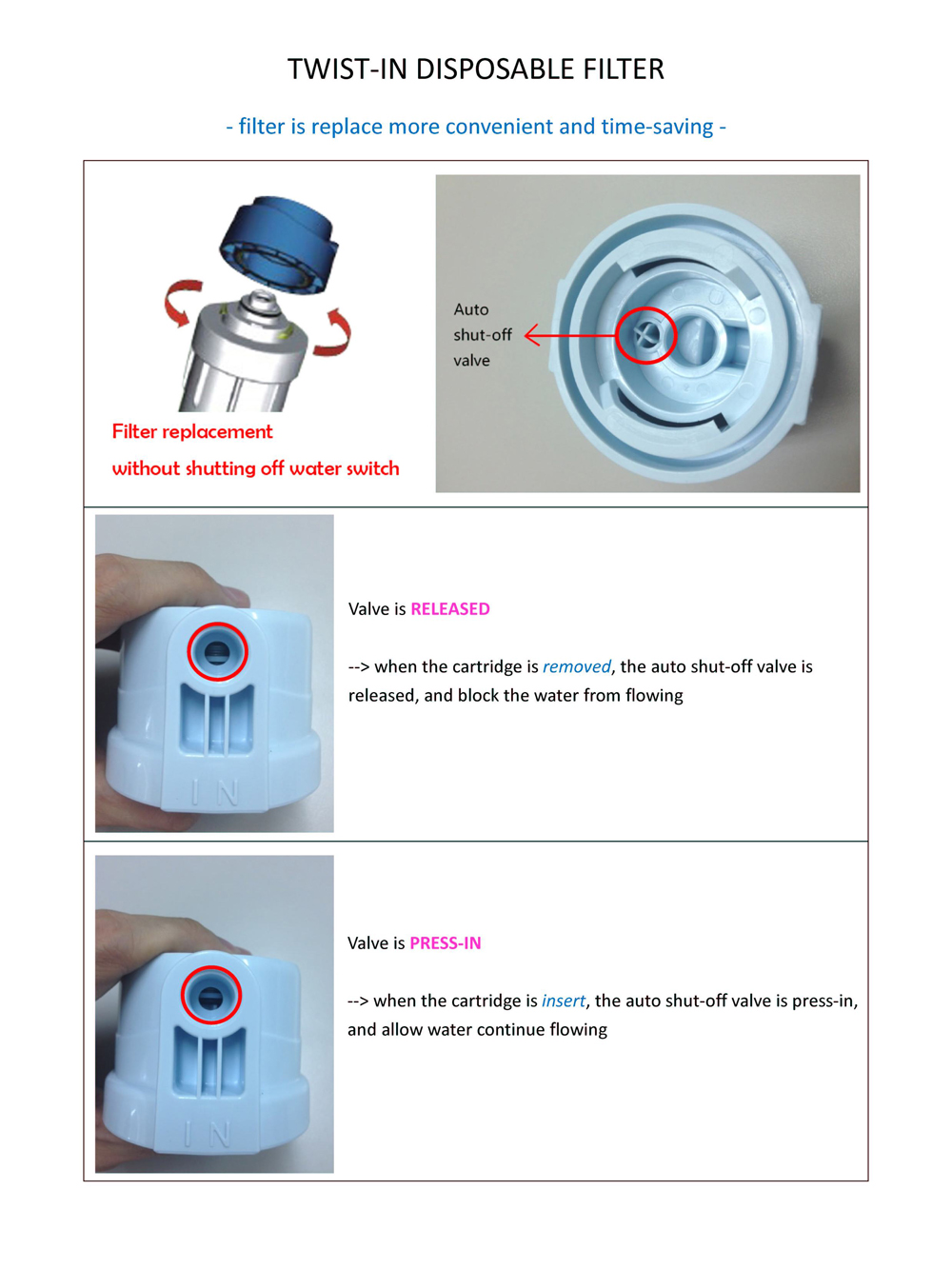 MODEL # A-225-13
1st Stage --- Twist in EZ Change Pre-filter (B-217-13 )
2nd Stage --- Twist in EZ Change Carbon Filter ( B-217-15 )
3rd Stage --- Twist in EZ Change Carbon Filter ( B-217-15 )
4th Stage --- King-Pro 50G RO membrane
5th Stage --- Post in-line Carbon
MODEL # A-225-15
5-Stage Compact RO System (Under-Counter)(NO PUMP)