Easy-Install Reverse Osmosis System

Model No.
A-225-14
Description
HY5099T 5-Stage Compact Reverse Osmosis System (Top-Counter)
Specification

RO membrane housing x 1
King-Pro 50G RO Membrane x 1
Booster Pump x 1
Pump Transformer x 1
Solenoid Valve(1/4") x 1
Prevent backflow valve / Check Valve x 1
Flow Restrictor(400ml) x 1
Ceramics Faucet (Silver)x 1
Steel Storage Tank (2.0g) x 1 - Assembled inside the Case
High Pressure Switches x 1
Low Pressure Switches x 1
Faucet Adapter x 1
Drain Clamp x 1
Brass Ball Valve x 1
Bracket x 1
Single Clip x 1

* The parts in the ( ) is the optional item, not included or used in the unit, but you could choose to use or replace the original item with the one in ( ).

Features

Can be placed on Counter-Top or Under-Counter.
When placed on the countertop, it can act just like a water dispenser! (No HOT or COLD feature) Just push down the button, as the picture shown.
Elegantly designed for convenient portability! Everything you need is inside of this case! P.S: Also easy for cleaning!
NO MORE SPANNER WRENCH!! Easy filter replacements!!
Quick-Connect fitting for easy-install reverse osmosis.
Space saving? Yes! The HY-5099 combines the RO system and its tank! Also, bugs can't get in!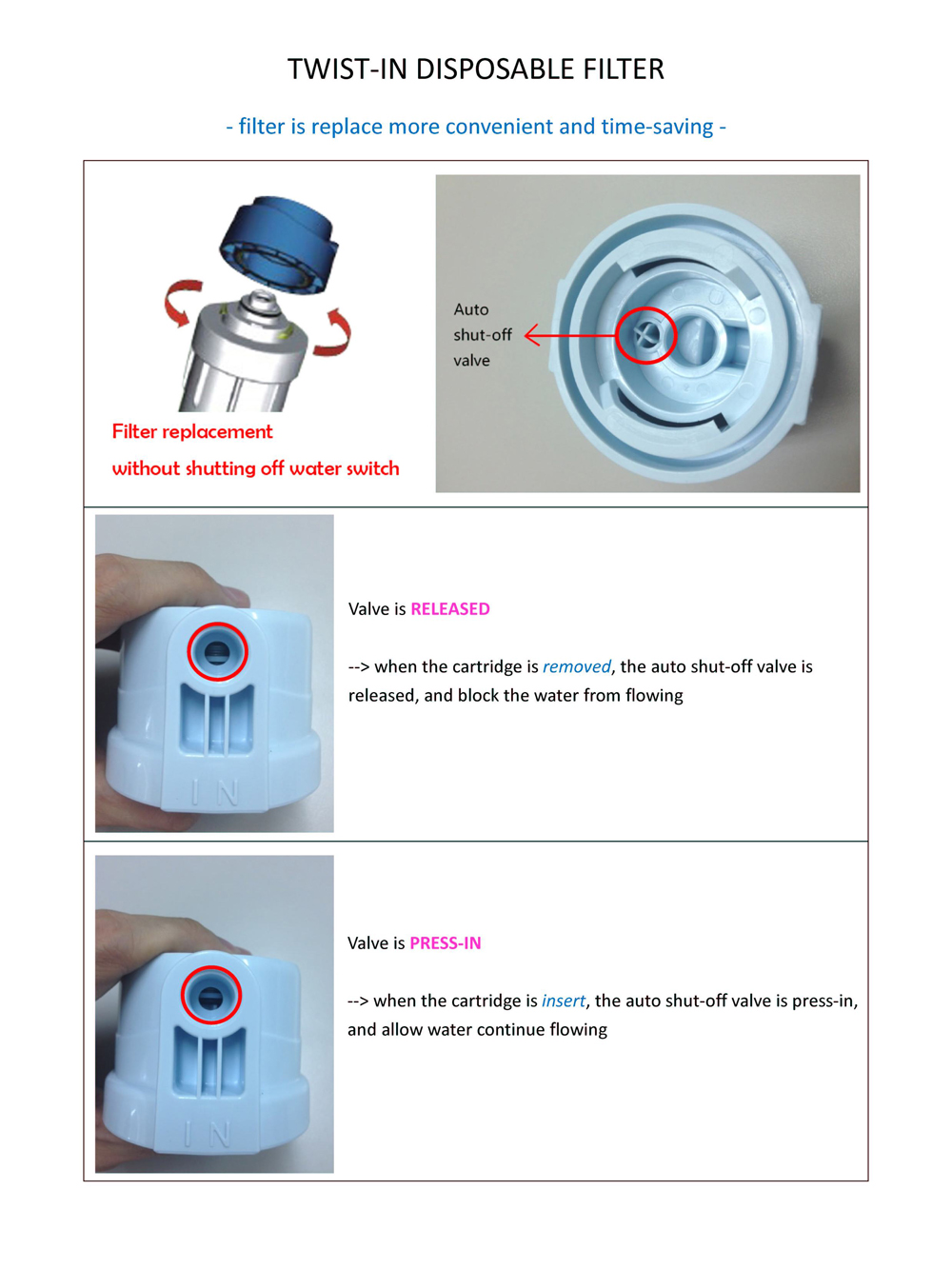 MODEL # A-225-14
1st Stage --- Twist in EZ Change Pre-filter (B-217-13 )
2nd Stage --- Twist in EZ Change Carbon Filter ( B-217-15 )
3rd Stage --- Twist in EZ Change Carbon Filter ( B-217-15 )
4th Stage --- King-Pro 50G RO membrane
5th Stage --- Post in-line Carbon
MODEL # A-225-16
5-Stage Compact RO System (Top-Counter) (NO PUMP)