5 Stage CE Standard RO System With EZ Fittings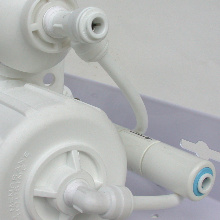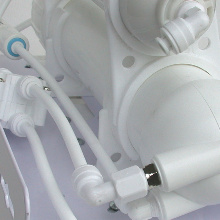 Model No.
A-156-2
Description
Typical 5-Stage RO System 50GPD ( No Pump ) with EZ Fittings
Specification

The quick-connect with all the necessary fittings, installation kits.
10" white housing x 3
Bracket x 1
RO housing x 1
10" Activated carbon filter x 1
5 micron 10" spun sediment filter x 1
1 micron 10" spun sediment filter x 1
CL-10 In Line coconut shell Carbon Filter x 1
HY RO Membrane 50g x 1
Automatic shut-off valves x 1
Prevent backflow valve x 1
Goose Faucets x 1
Spanner wrenches x 1
NSF Standard Storage tank(3.2g) x 1 (Plastic tank 2.2g or 4g is optional)
Tank valve x 1
1/4 inch Color Tubing for System Connection for 6M
Flow Restrictor(400ml) x 1
Single Clip x 2
Double Clip x 2
Faucet Adapter x 1
Faucet Adapter x 1
Drain Clamp x 1
Brass Ball Valve x 1

* The parts in the ( ) is the optional item, not included or used in the unit, but you could choose to use or replace the original item with the one in ( ).
MODEL # A-156-2
1st Stage --- 10" PP
2nd Stage ---10"UDF
3rd Stage --- 10" CTO
4th Stage --- KINGPRO 50G Membrane
5th Stage --- Post in-line Carbon
3.2G NSF Standard Storage tank
Without pump
50/80/100GPD is optional