TAIWAN MADE EVERGREEN CARTRIDGE TW/S105



Taiwan Made Ever Cartridges S105 function is similar with Everpure S104 cartridge. Purificador S105 is compound filter made from PP sediment and carbon fiber for agua filtration.
Purificadores agua is suitable for home use and commercial use. It can be in coffee shop, beverage shop, restaurant, ice maker, etc.. This cartridges can remove lead, taste , odor, chlorine, chloramines, iron, oxide, sulfur oxide, manganese oxide, muddy and rust. La función de este filtro es eliminar el cloro y el plomo.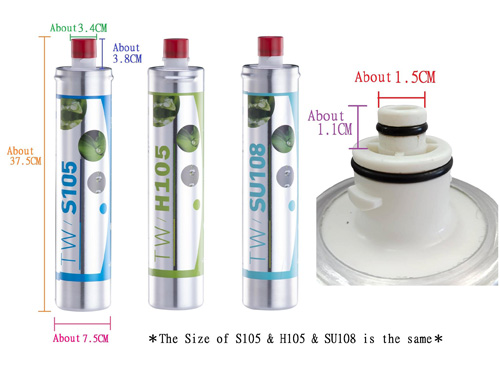 Model No.
B-325
Description
TAIWAN MADE EVERGREEN CARTRIDGE TW/S105 (CHLORINE & LEAD REMOVAL)
Specification

Cartridge Service Life: 2000 Gallons (7,570L) or about 12 months (Depend on water flow, quality and pressure.)

Max. Pressure: 125PSI

Water Temp.: 2-38℃

Flow Rate: 0.5 Gallons / Minute

Description: Carbon Filtration Media, Compound Filter

Features: Remove Lead, Taste & Odor, Chlorine, Chloramine, Iron, Oxide, Sulfur Oxide, Manganese oxide, Muddy, Rust...and so on.