Filter Protecting Valve / Plastic
FILTER PROTECTING VALVE is designed for high pressure installations to protect your water filtration appliances, ice makers, coffee machines or fridges with water dispensers. FILTER PROTECTING VALVE will limit the water pressure down to 40 psi. Valve is with 1/4" push fittings, this helps to connect easily with your 1/4" tube or 3/8" tube.
Model No.
C-291-15
Description
Pressure Limiting Filter Protecting Valve Dual Check Z-LV-FPV-0308
Standard
In-Out Size: 3/8" NPT
Flow Rate: 7.5LPM at 100PSI inlet pressure.
Outlet Pressure: 40 / 50 / 70 / 80 / 125 PSI ±10% at 150PSI.
Pressure Ratio: 10:1(for every 1.5PSI increase in inlet pressure above 150PSI, the outlet pressure will increase by 0.145PSI)
Max Inlet Pressure: 230 PSI
Working Temp.: 4°C~40°C
Length: 114mm
Diameter: 36mm
Weight:63 grams
Filter Protection Valve Features
High quality pressure limiting valves being applicated for high pressure system to protect downstream components - water filters, drink dispensers, RO system.
Protect water filteration devices by limiting water pressure and reducing water hammer.
Different pressure ratio setting for options to suit different application.
Quick fitting connector for easy to install onto your application.
Protects water filter units by limiting water pressure. Ideal for R/O units, Fridges, Ice Makers and Coffee Makers. Resists water hammer.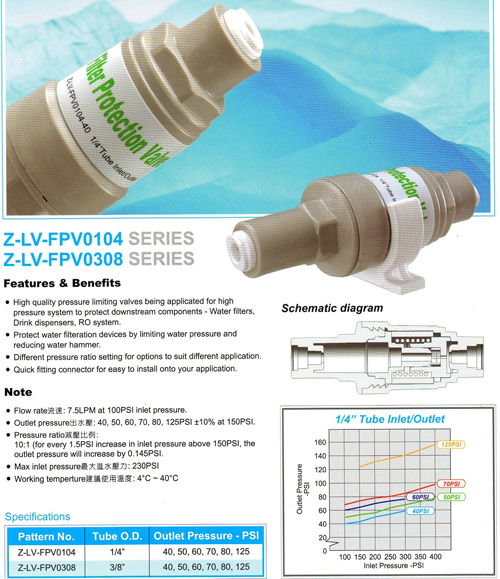 Pressure Limiting Filter Protecting Valve Dual Check Z-LV-FPV-0308
3/8" NPT (Outlet Pressure: 40 / 50 / 70 / 80 / 125 PSI ±10% at 150PSI.)
Cut-Down Pressure Valve / Plastic