Limiting Valve / Plastic / Double Check Valve



Model No.
C-291-18
Description
Pressure Limiting Filter Protection Valve ( Dual Check Valve Included) Z-LCV-FPV-0104-50
Features

Double check valve design, prevent water backflow
The main function of the valve is to protects water filtration system RO system, fridges, ice makers and coffee makers by limiting water pressure and resist water hammer.
Different pressure ratio option, suitable for different country area
Quick fitting connector for easy installation
Small sizes with good function, do not occupy assembly spaces.

Specification

Inlet & outlet: 1/4" NPT
Flow: 7.5LPM (when water inlet is 100PSI)
Type: 40, 50, 60, 70, 80, 125PSI
Cut down pressure ratio: 10:1
Maximum water inlet pressure:230PSI
Recommended Temperature: 4°C ~ 40°C

Dimension

Length: 114mm
Diameter: 36mm
Weight: 63g
Cut-Down Pressure Valve Features
High quality pressure limiting valves being applicated for high pressure system to protect downstream components - water filters, drink dispensers, RO system.
Protect water filteration devices by limiting water pressure and reducing water hammer.
Different pressure ratio setting for options to suit different application.
Quick fitting connector for easy to install onto your application.
Protects water filter units by limiting water pressure. Ideal for R/O units, Fridges, Ice Makers and Coffee Makers. Resists water hammer.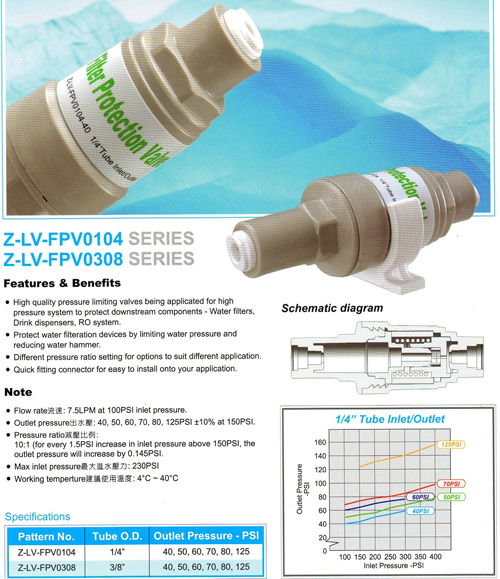 Pressure Limiting Filter Protection Valve (Dual Check Valve Included) Z-LCV-FPV-0104-50
1/4" NPT (Outlet Pressure: 40 / 50 / 70 / 80 / 125 PSI ±10% at 150PSI.)
Cut-Down Pressure Valve / Plastic / Double Check Valve